The old wind mill at Slettensvejen north of Odense, has undergone one extensive restoration over the last 30 years
, and will soon have new wings. Many millions of kroner have been spent on making the 200-year-old mill work again.
In 2004, the mill was reconsecrated, and people from all over Funen visits the mill several times a year to experience fiddler music, a flea market, exhibitions, and the idyllic surroundings around Lumby Mill.
After more than a year and a half break, it is again possible for tourists and other visitors to enjoy the beautiful surroundings around the mill, as well as see the mill from the inside during the summer holiday period.
5 Wednesdays during the summer, the mill is open to the public, where you, among other things. can see the work being done to keep the mill and the other buildings in fine condition.
For only DKK 20 (children free) you can get a guided tour of the old mill, and get the story of the enterprising miller Rasmus Pedersen, who founded the mill.
Mølleboden will be open with sales of Møllekringle, coffee, ice cream, beer and water, as well as a lot of other fun things that you can only
find at Lumby Mill. There is of course the opportunity to enjoy the coffee in the beautiful mill garden with the linden alley leading up to the mill. Behind the mill, the handicraft school will leave
Allesø Husflid runs with the large block saw.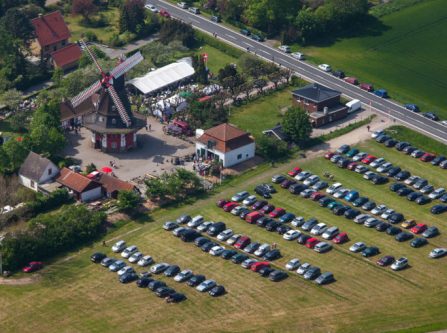 Opening hours at Vingesus
The following Wednesdays will be open atLumby Mill
Wednesday the 7 of Juli, from. 19-21.00
Wednesday the 14 of Juli, from. 19-21.00
Wednesday the 21 of Juli, from. 19-21.00
Wednesday the 28 of Juli, from. 19-21.00
Wednesday the 4 of August, from. 19-21.00
There is free access to the area around Lumby Mill.