In 1776, miller Peder Rasmussen (R.P.) and his wife Anne Kirstine Pedersdatter at Dallund Mill had a son, who was christened Rasmus Pedersen.
He was named after his grandfather, who had been a miller at Lunde Mill and later at Dallund Mill.
After his father's death, Rasmus Pedersen traveled to Copenhagen, where in 1800 he became a miller's friend with his brother-in-law at Svanemøllen.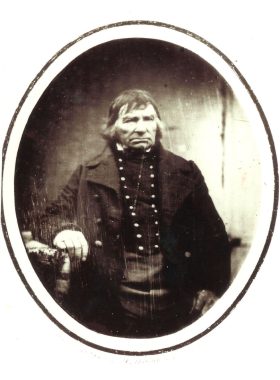 At Hasmark Mill lived at that time a miller's widow, who in 1799 had lost her third husband. Now that she was an older lady, she wanted to give up the mill in exchange for that they took care of her.
It was Rasmus Pedersen who was offered to come to Hasmark. A contract was established between the widow and R. P., and one of the conditions of the contract to become a party at Hasmark Mill was that R. P. married the mill widow's faithful maid Maren Jensdatter - otherwise the girl should be allowed to choose another man.
R.P. agreed to this condition, and on 15 October 1802 he was married in Hjadstrup Church to Maren Jensdatter, and thus became the owner of the stump mill in Hasmark.
In 1812 R.P.´'s wife Maren Jensdatter died, with whom he had 6 children, and half a year later R.P. with Anne Marie Nielsdatter
from Norup.
R.P. was a skilled miller and had ambitions to have a larger mill so that he could support his large family, and on July 8, 1816, R.P. the king for permission to build a windmill on Lumby Mark or Lumby Taarup Mark, but only for mining - i.e. only grits had to be ground.
He could not obtain a permit for coarse paint until "Mølletrang" had been proved by a witness (court case), to which all mill owners within a mile were apprehended.
It now became a long and tough battle for RP, because the surrounding mill owners were not interested in a competitor, and his worst opponent was Inspector Faaborg at Næsbyhoved Mill, when he had at that time been refused to build his burnt down mill and furnish it for coarse painting. Faaborg had hired a very driven procurator who could do an incredible number of tricks to delay the case.
R.P. did not let himself be beaten out, and on October 13, 1817, he received a deed on a piece of land - matr. Nr. 17b - bought by farmer Jeppe Jensen (Kvadrillegården). This is where the mill was to be built. R.P.´'s opponents now threatened to demolish the mill as the location was wrong, but R.P. got the grant changed to sound on Lumby Mark instead of Lumby Taarup Mark.
In 1820 the mill was completed, and R.P. let the plate set up, which is seen above the entrance to the mill. The plate has the following inscription:
In the care of God you stand
Mill safe, your Wing fast,
The grinder will run, the pit will go.
Little peace and quiet
Hvile Maleværk og Svende faae.
Give, O God, our Striving Luck.
Every man here did justice.
But quite easily it did not go for R.P. - his opponents kept bothering him and delaying his case.
Eventually, it became R.P. Too much.
On November 20, 1822, he sent a very long letter to the then Prince Christian (later Chr. VIII), who was governor of Funen, in which he lamented his distress and asked the prince to speak his case for the king.
The prince took action, so now things got going, and on March 29, 1823, both Lumby Mill and Næsbyhoved Mill were given permission for coarse painting.
In 1824, R.P. with his family into Lumby Mill.
R.P. had then had a total of 13 children, no. 14 - Christiane - was born at Lumby Mill in 1828.
The miller's further life
In addition to Lumby Mill, R.P. also agriculture, buying more land for his property. In Stige town he bought a house, where a shop was set up, from which the skippers could be supplied with goods from the mill.
R.P. was an enterprising and team man, but very dominant. It was he who decided everything for the family, therefore he probably also felt that he was the right one to govern the country, and in 1834 he was put on the electoral roll for the estate assembly in 11 constituencies, where 1 deputy and 1 deputy were to be elected. . When he unexpectedly only became No. 2, he did not want to join at all and withdrew.
On May 31, 1857, R.P. 81 years old, and then his wife lived in an unaltered estate, and 5 unmarried, children living at home - Frederik, Christian, Johannes, Jacob and Christiane - helped with the mill and agriculture.
When the mother died in 1862, the entire estate was transferred to her son Frederik. None of the siblings mentioned got married, and when the brothers died, Christiane had to do it all with good helpers.
It had been R.P. last wish that the mill should remain in the family's possession, but with a bleeding heart Christiane had to give up, and she moved to a niece in Hjorslev.
The course of the mill up to today
On 27 April 1911, a public auction of the movables was held, and the mill itself was sold to Jørgen Pedersen, who already the same year sold it on to miller Martin Christiansen, who operated the mill until 1929.
Then it was sold a few times - the last couple of millers were Erna and Peder Christoffersen.
I 1970 blev møllen overtaget af "Danske Møllers Venner", der i en del år drev et værksted der producerede mølledele til
other mills in Denmark.
In 1985, the independent institution "Lumby Møllegaard" was formed, which through a support association raised funds
to start a very comprehensive restoration of the entire complex.
Since 1 April 1990, Lumby Mill has been owned by Odense Municipality, and the association "Lumby Møllegaard" is responsible for a restoration and maintenance of the mill and its buildings via a cooperation agreement.
With great support from local citizens, and help from local businesses, the association has got the mill and its buildings to the condition they stand today.